Measures metal thickness to determine wastage or

corrosion - accurately, quickly and without removing

surface coatings.

Multiple echo, single crystal probes mean:-

Coatings do not have to be removed -

measures only the metal thickness.

Accepted by major classification societies.

Measures on metals and some other materials.

Available with a topside repeater or datalogging software.

A P P L I C A T I O N S

Metal thickness and corrosion checks on offshore structures and ships.

Safety corrosion monitoring of pipelines and storage vessels.

Metal thickness / wear checks on anchor chains, jetties, dock gates, piers and pilings.

Ships classification surveys.

Maintenance and safety checks on bridges.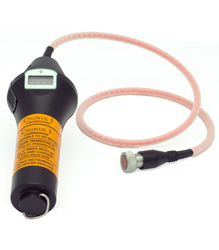 Underwater Multiple Echo Ultrasonic Thickness Gauge

NEW feature